"I violated the rules and my relationships suffered greatly." 
Jim Lane had become a Goldman Sachs partner at 34, with all the accolades and privileges that brings. Unlike most of his peers, however, he also had a strong Christian upbringing and heritage (his grandparents had mentored a young Billy Graham at Wheaton College).
After making personal mistakes which often accompany early success, Wall Street entrepreneur and New Canaan Society Founder Jim Lane asked himself: what's the one thing missing in my life that could have helped me make better choices? His conviction to change and to restore his fractured relationships drove him to the question. The answer would alter the course of his life.
Jim gleaned that what was missing was a group of male friends who understood the stresses of the marketplace but who also wanted to go deeper in their faith. So, one morning in 1995 a small group of men began meeting around the kitchen table over bagels and coffee at his home in New Canaan, CT. They talked about anything and everything related to faith and spiritual growth. Over the next year, word got out and the group got larger. What those men discovered together was a simple principle that lead to a movement of thousands of men around the country known as the New Canaan Society—that men are designed to be in community. They need each other in order to learn how to love God.
Learning how to love God. It's an objective which eludes most and challenges the rest. Love is a highly personal emotion based on time and experience with its subject. Our loved ones are close to us, if not in time and space at least in memory and thought. We see their faces, connect with their presence and desire their company. Just think about those you love. But God? How can we make that same kind of connection with Him? Doesn't He exist on a plane beyond ours? Can we know Him enough to include Him among our loved ones? God WANTS us to know and love him—really LOVE Him. That's why He sent us His son. Consider what Jesus said:
 "I pray…that all of them may be one, Father, just as you are in me and I am in you. May they also be in us…I have given them the glory that you gave me, that they may be one as we are one—I in them and you in me—so that they may be brought to complete unity…" (from John 17:20-23)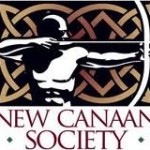 Jim Lane and his New Canaan Society friends are living this precept: "Relationship is God's model," Jim says, "so community is key. We are learning in this lifetime how to live in community together, because that's where we're headed. We're striving to be a part of the ultimate partnership, and we have the eternal privilege of learning together how to do that. When guys are safe with each other and can be open, honest, transparent and authentic together—God shows up!"
Yours for the journey,
Steve 
Steve Silver—June 5, 2013
CLICK HERE to view highlights of Jim's 2012 Men's Golf Fellowship talk.
CLICK HERE  to learn more about New Canaan Society.
CLICK HERE to receive Email notifications of other New Man Profile posts.